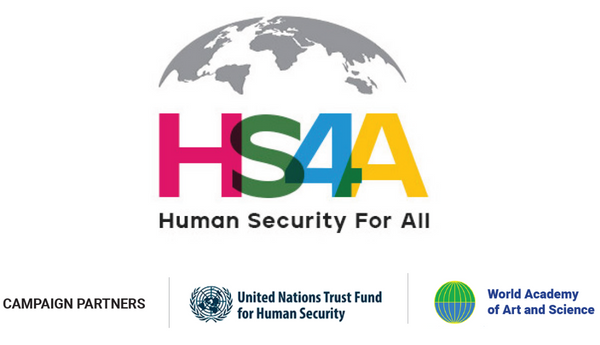 Dallas, USA
April 19-23, 2023
The global challenges confronting humanity today impact the lives of people all over the world and require urgent, coordinated global action. To address these challenges, the Human Security for All (HS4A) campaign is participating in the EarthX 2023 expo at Dallas, Texas on April 19-23, 2023. Founded in 2012, EarthX promotes environmental awareness and impact through conscious business, nonpartisan collaboration, and community-driven sustainable solutions. The world's largest environmental expo, this year's event is expected to attract 125,000 attendees, 2000 environmental leaders, 300+ exhibitors and 300+ speakers. Earthx 2023 will highlight the critical need to address the full range of environmental challenges impacting the survival, livelihood and dignity of people.
HS4A is an initiative of the World Academy of Art & Science and the UN Trust Fund on Human Security. HS4A team members will speak and moderate at the Climate Adaption Conference, the E-Capital Summit, and the United Nations' SDG Media Summit. It will stress the close linkage between environmental sustainability and human security and project a message to the global public to recognize that environmental issues threaten the health, safety and wellbeing of every human being on earth. Therefore it is in everyone's person interest and social responsibility to protect and preserve a health environment.
The E-Capital Summit attracts investment firms, early-to-late-stage innovators, dealmakers, established global companies, industry thought leaders, national policymakers, incubators and accelerators, and researchers that have substantial, positive impacts on investments, businesses, people and our planet. Over the past six years, the invitation-only E-Capital Summit has gathered more than 2,500 participants from over 20 countries, including from more than 260 leading investment firms and 320 emerging innovators tackling some of the world's greatest opportunities in sustainability, resiliency, conservation, clean technology, and climate technology.
HS4A has been launched to support the UN's concept of human security, which promotes the protection and empowerment of individuals and communities from various forms of harm, including physical violence, economic insecurity, and environmental degradation. First introduced by the U.N. in 1994, human security emphasizes the central importance of placing people at the center. It gives priority to promoting personal well-being and issues closely tied to people's personal lives and needs. HS4A encourages broad participation of individuals and organizations in all regions and sectors of global society, including business, education, science, technology, religion, government, and especially youth.
"Climate change is creating new challenges for countries and will increasingly begin to shape their policies," says Mehrnaz Mostafavi, Chief of the UN Trust Fund for Human Security. "Drought, hurricanes, and forest fires are impacting the lives and security of millions here in the USA every year. Islands are sinking in the Caribbean, food supply chains are being disrupted, and infectious diseases are spurred on by natural disasters. Coordinated action can successfully address or mitigate many of these problems. The Aral Sea disaster in the Republic of Karakalpakstan in Central Asia saw strong partnerships between government agencies, donors, the United Nations, and communities to reverse some of the suffering caused by the world's fourth-largest lake drying up from human neglect."
Human security recognizes the importance of personal well-being and includes seven security pillars tied to an individual's experience in life. One of these pillars is environmental protection.
Environmental policies, individual actions, and consumer awareness help create a path to a more sustainable future. Innovation helps to reduce our environmental footprint and better harness climate-friendly energy resources while introducing novel approaches to limiting waste.
One of the most pressing issues of our time, climate change threatens the lives and livelihoods of billions of people. Natural disasters, environmental degradation, and extreme weather patterns disrupt harvests, deplete fisheries, and erode livelihoods. Demographic trends, migration, and rapid urbanization converge with climate change, raising the stakes for those most vulnerable.
"Human security will be increasingly threatened as the climate changes," says Garry Jacobs, President and CEO of The World Academy of Art and Science. HS4A has been launched to mobilize all sections of society to work together to find solutions. Leading technology companies are collaborating to find innovative solutions. Universities are changing their curriculum to inform students and better prepare them to become part of the solution. Finding solutions to the threat of climate change will also result in a more peaceful world."
The human security approach allows for more targeted and community-driven solutions that address immediate vulnerabilities while also building resilience and protecting livelihoods in the long term. Through supporting community actions, the Human Security for All campaign aims to reduce disaster risks, make sustainable and fair use of environmental resources, and foster peaceful, prosperous societies. Positive initiatives are already happening. Environmental action, partnerships, and responsible consumer habits are playing a leading role in creating benefits for people around the world.
The HS4A campaign is committed to supporting human security as a fundamental principle of environmentalism and will continue to work towards this goal through its various initiatives and campaigns.